Hi. This is Barcelona introduces travelers to the REAL Barcelona with a knowledgeable and enthusiastic team and exclusively designed tailor-made tours and other experiences for their clients, in and around Barcelona, and in other major Spanish cities.
Barcelona, Day & Night
Private Barcelona Tours
Discover the best of Barcelona in our signature (but unpredictable) customized walking tour.
We invite you to wander with us through the Gothic Quarter's maze in this historic tour in Barcelona.
Discover the greatest modernist architecture Barcelona has to offer by foot or car.
Our Barcelona by bike tours can be customized to fit what you want to see most in Barcelona.
Experience Barcelona's oldest neighborhood, the Gothic Quarter, in our private night tour.
Experience Barcelona in a Day. We've designed a comprehensive, two-part tour to help you cover Barcelona in a day.
Contact Us or Book Direct Online to Make a Reservation
Tastes of Barcelona
Private Barcelona Tours
This experience includes your private tour plus a selection of high quality tapas and drinks around Barcelona.
Take part in a tapas bar-hopping experience and learn about the history of tapas and their evolution in Barcelona.
Experience the contemporary cuisine for which Barcelona is known through our Mediterranean cuisine tour.
Taste the best in local pica pica and Catalan wines around Barcelona with our private tour.
Indulge in a three-part delectable Catalan feast with your own personal chef in our private cooking class.
Contact Us or Book Direct Online to Make a Reservation
Specialized Barcelona
Private Barcelona Tours
Take the hassle out of deciding where to go, when, and in what order, and leave it all to our personal shopper.
Tour Jewish Barcelona with an Expert. Learn about the complex past and present.
Turn yourself over to our resident Picasso expert, an art critic and professor living and teaching in Catalunya.
If your desire is to discover, decipher, and interpret the architecture of Barcelona, then this tour is for you.
Join our design expert on an exciting journey through Barcelona's most avant-garde showrooms and more.
Turn yourselves over to our art connoisseur for a day, and discover Barcelona's eclectic collection of contemporary art.
Interested in the tools, materials, and methods behind Spanish artisan workshops? This is the experience for you.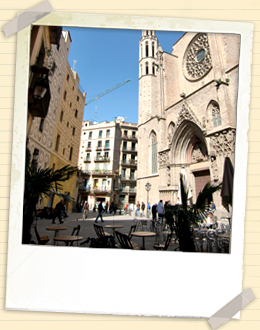 Visit Born, Barcelona and be born again in our unique private tour.
Customize your perfect Barcelona tour experience with our expert guides.
Contact Us or Book Direct Online to Make a Reservation
Barcelona Day Trips
Private Barcelona Tours
Indulge in a day of Salvador Dali art, historic Girona, and the Jewish History Museum.
Put yourself in the hands of our expert mountain guide for a day, and explore Catalunya the way it should be seen.
Cadaqués, Cap de Creus and Cotlliure, or "The Three C's", are possibly the three most beautiful and picturesque settings along the Catalán coast.
Soak up the beauty of Costa Brava in our customized full-day tour.
Contact Us or Book Direct Online to Make a Reservation
Active & "Outdoorsy" and Around Spain
Private Barcelona Tours
Our expert mountain guide is one of the best in Catalunya; explore outside of Barcelona in our day-long hiking tour.
We design a wide range of custom tours to provide tailor-made experiences for our active clients.
It's not just Barcelona: we will set up a private tour for you in other Spanish cities.
Contact Us or Book Direct Online to Make a Reservation